Welcome to WBF's "Family of Benefits" Web Site!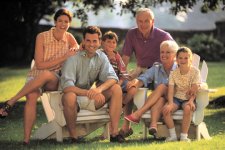 Workmen's Benefit Fund of the USA is a fraternal benefit society that was founded in 1884. Membership is open to men and women of reputable character, ages 0 to 80. As a fraternal society, we offer affordable life insurance and competitive annuity products, as well as free benefits to our members. WBF is committed to helping its membership, their families and local communities in the spirit of fraternalism.
Domiciled and incorporated in New York State 132 years ago, WBF was founded with the primary objective of assisting others in time of need. WBF is guided by its Constitution and By-Laws under the jurisdiction of the New York State Department of Financial Services. Today, we continue that steadfast tradition by offering a variety of financial products, fraternal programs and benefits for every member of our WBF "family".
Affordable Life Insurance Plans - to fit every family's members needs.
Diverse Competitive Annuity Portfolio - designed to meet the goals of our membership.
Fraternal Programs - WBF is a fraternal benefit society offering a wide variety of benevolent programs to benefit our members and their families. Many of these benefits at no cost.
Workmen's Benefit Fund of the U.S.A.
399 Conklin Street - Suite 310
Farmingdale, NY 11735-2614
Phone: (516) 938-6060 / Fax: (516) 706-9020
e-mail: info@wbfusa.org